For over 70 years, Tri-Boro has been dedicated to providing companies with innovative solutions, equipment and programs for all their storage requirements. All Tri-Boro products are manufactured in accordance with the highest quality standard of the material handling industry.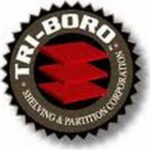 Open shelving units are ideal for economical, general purpose storage. They allow light to penetrate a storage area and provide for free air flow around stored materials.
Standard side and back sway braces made from 12 gauge steel are used to stabilize open shelving units. Braces are punched to attach to upright posts with nuts and bolts.
Shelves come in depths of 12″, 15″ 18″, and 24″
Widths of 36″, 42″, 48″
Heights from 73″, 85″ & 97″
Weight Capacity From 550 lbs to 850 lbs Per Shelf
Shelving Adjustable Without Tools.
Triboro
Rivet Rack & Adjustable Shelving
Sturdy units provide heavy duty storage for records, warehouses and industrial applications. Our boltless design ensures easy assembly and quick set-up.
Shelves come in depths of 18″, 24″, 30″, 36″ & 48″
Widths of 24″, 30″, 36″, 48″, 60″, 72″, 84″ & 96″
Heights from 72″, 84″ & 96″
Weight Capacity From 1000 lbs to 1300 lbs Per Shelf
Rivet rack may be used for general purpose and/or record storage applications
Wide span capability
Shelves are adjustable on 1-1/2″ centers
Custom configurations available
Ply Board shelves available
Boltless clipless construction assembles in minutes
Double rivet medium duty beams