Jiangsu Kingmore Storage Equipment Manufacturing Co.,Ltd. has focused on top quality storage and logistics equipment for over 13 years in China. We started as a small operation, but now have become one of the leading suppliers in the racking equipment industry in China. Kingmore Racking is to create added value for customers around the world.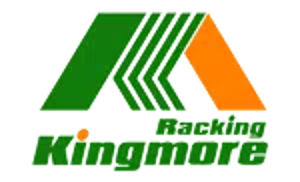 KINGMORE SHELVING
SELECTIVE RACKING
Selective pallet racking is the most commonly used pallet racking system. These systems are called "selective" because they allow users to select any pallet load from the pallet racking system without having to move any other pallets. 
Select sizes are in stock and available for quick purchase:
Upright Frames: 96"H, 144"H, 192"H & 240"H
Beams: 48"L, 96"L & 108"L
Wire Decking: 42"D x 46"W & 42"D x 52"W
KINGMORE SHELVING
DOUBLE DEEP RACKING
Double deep pallet racking systems are an ideal storage option for many industrial warehouse applications. Using the same principles as wide aisle (selective) pallet racking, double deep racks stores 2 pallets deep or 4 pallets deep between aisles. It delivers increased storage density when compared to wide aisle racking and requires specialised fork lift trucks. 
Double deep racking utilises one row of standard pallet racking behind another. Using an extended reach lift truck, the operator places the back pallet into the system first, then places another pallet in front of it.
KINGMORE SHELVING
DRIVE-IN RACKING
The Drive in Racking System is a high density storage solution that maximizes available space and height in the warehouse by reducing the forklift operating aisles. Pallets are placed so they can slide backwards on a rail, thus storing them more deeply and creating more space in the warehouse. Drive-In Racking involves the forklift entering the racking from one side to load or retrieve the pallets which are stored more deeply.
KINGMORE SHELVING
PUSH BACK RACKING
Push back racking systems are a type of storage system intended to be used with pallets while creating a higher storage density than most other racking systems. A typical push back racking system can store between two and five pallets in a single lane—though there are some that support higher capacities than this.
Each shelf of the racking system has rails that are angled slightly towards the aisle, with a series of carts sitting atop the rails. These nested carts are pushed back each time a new pallet is loaded onto the rack (hence the name, "push back" racking).
When pallets are removed, the angled rails let the carts slide forward, presenting the next pallet in line for easy retrieval.