FOOD GRADE EQUIPMENT/MACHINERY
PCI Piston Filler
Liquid Filling Machines for all kinds of products from gels and pastes to water and juices.
Semi liquid, cream, viscous products with or without particles. 
Jams, Jellies, Soups, Dressings, Spreads, Mayo, Sauces, Pastes, Gels, Creams,
Honey, Yogurt, Juice, Shampoo, Oil, Detergent, Lotions, Chemicals.
All Stainless Steel 316L
Pneumatic Operation
High Accuracy
Foot Switch Activation
Easy to Clean
Low-to-Medium Production
Low Cost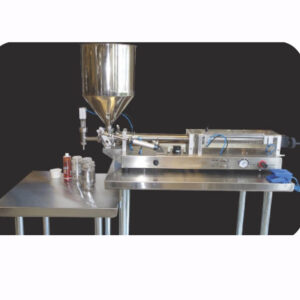 Piston Fillers
OPTIONS
| MODEL | CAPACITY | WEIGHT |
| --- | --- | --- |
| SGGG-120 | 10-120mL | 30Kg |
| SGGG-250 | 25-250mL | 34Kg |
| SGGG-500 | 50-500mL | 37Kg |
| SGGG-1000 | 100-1000mL | 43Kg |
| SGGG-2000 | 200-2000mL | 47Kg |
Stainless Steel Tables from 

Air Compressor with Tank
Cap Tightener Model LD Air
FOOD GRADE EQUIPMENT/MACHINERY
Edhard Filler
Edhard equipment fills a need in the marketplace. The bakery, food service, cosmetic and packaging industries use our accurate and economical dosing systems to save time and material. Our products include Power Bases, Filler Units, (Pump and Hopper Combinations), Spouts, Accessories and Cake Decorators. A partial list of food products, which can be injected, filled, deposited, layered and topped by using our dosing system:
Batters, Butter, cheesecake, cottage cheese, cream cheese, creams, custard, fruit fillings, honey, icing, jelly, ketchup, molasses, mustard, oils, peanut butter, preservers, puddings, purees, ricotta cheese, salad dressings, salsa, syrups, tomato paste, tomato sauce, whipped cream, yogurt and many other products with or without particles.
Non – food product applications:
Cosmetic, creams, finger paints, gels, glycerin, hand creams, lotions, industrial lubricants, ointments, petroleum jelly, toothpaste and many other viscous and liquid products