FOOD GRADE EQUIPMENT/MACHINERY
VACUUM MACHINE
Vacuum packaging is the process of removing air around a food product and then sealing that product in an impermeable package.
Advantages of using vacuum packaging:
Allows saving in quantity buying because products may be bought in bulk at a low price, pre-packaged & resold. 

Reduce product shrinkage, no moisture loss or evaporation. Same weight you package is the same weight you will sell.

Enhance product quality and allow longer shelf like, 3-5 times, depending on the product.

Eliminate oxidation freezer burn.
VACUUM MACHINES
PCVP95 Table Top Chamber Vacuum Machine
FEATURES
Stainless Steel Body

Digital Control

Heavy Duty See Through Lid

Removable Incline Plate

Use Low Cost Regular Vacuum Bags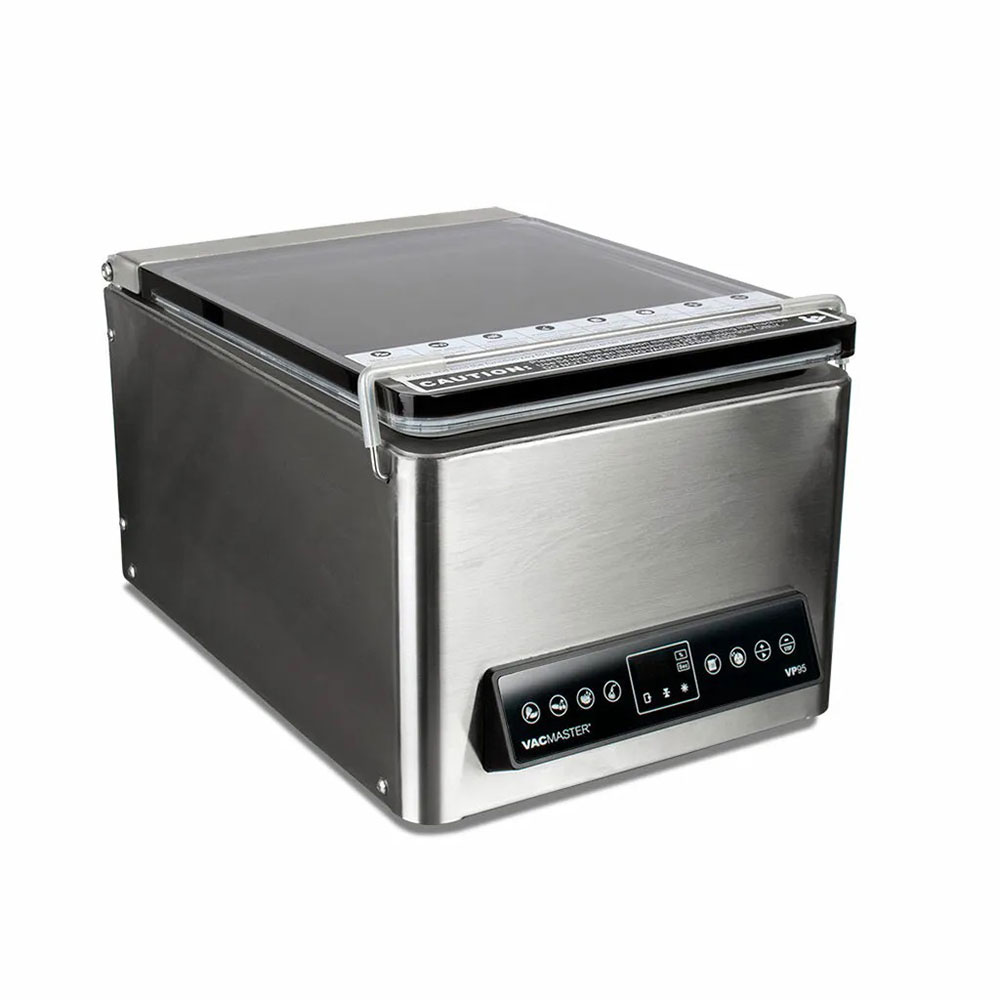 PCVP95 TABLE TOP CHAMBER VACUUM MACHINE
SPECIFICATIONS
| | SPECIFICATIONS |
| --- | --- |
| Chamber Size | 9.5" x 10.5" x 3.25" |
| Seal Bar | 9.25" |
| Max Bag Size | 9" x 13" |
| Power | 110V 60Hz 4.2Amp |
| Cycle Time | 0-60 seconds |
| Pump | Piston Oil Pump 1/4 HP |
| Weight | 42.5lbs |
| Dimensions | 11" x 16" x 9" |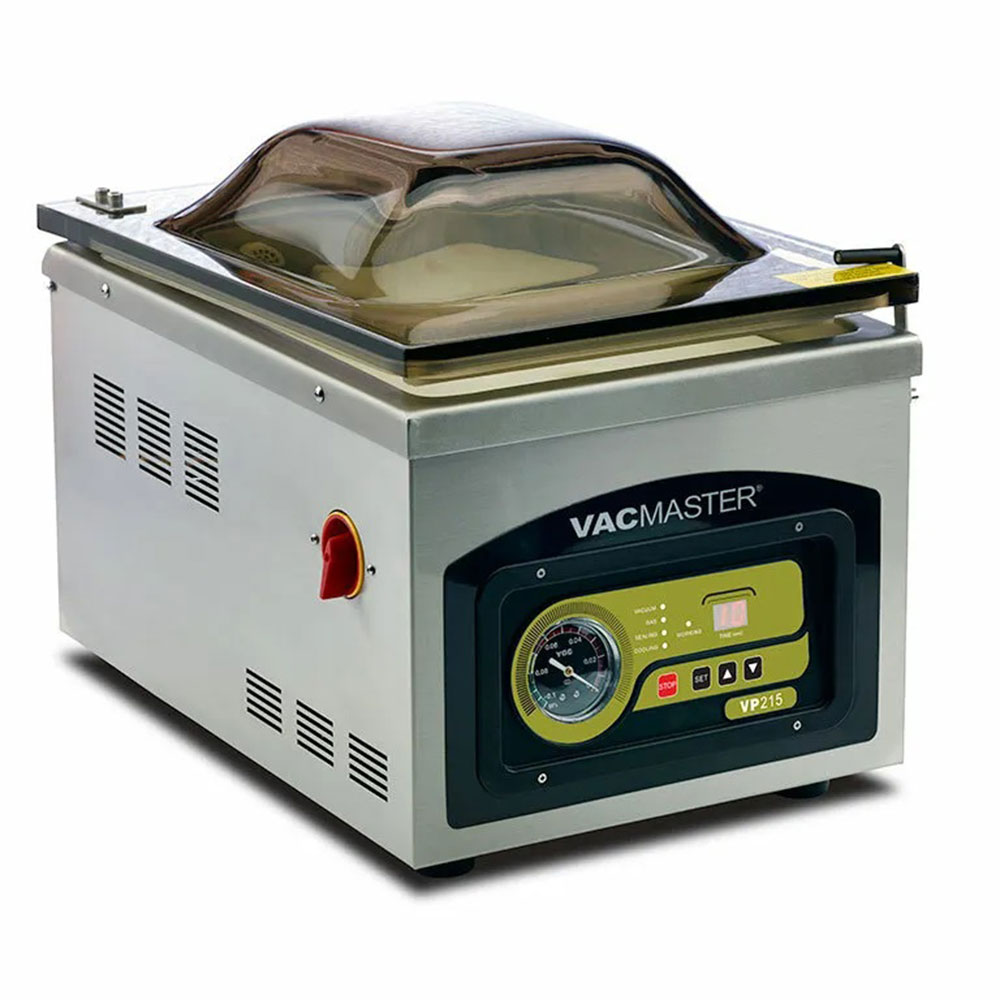 VACUUM MACHINES
VP 215 Table Top Chamber Vacuum Machine
VP 215 TABLE TOP CHAMBER VACUUM MACHINE
SPECIFICATIONS
| | SPECIFICATIONS |
| --- | --- |
| Chamber Size | 11.25" x 15.25" x 5" deep |
| Seal Bar | 10.25" |
| Vacuum pump | ¼ HP Rotary Oil |
| Power | 110/60/4A, 462 Watts |
| Machine Size | 20" x 14" x 15" |
| Machine Weight | 84lbs |
| Largest bag that can work on machine | 10" W x 15" L |
VACUUM MACHINES
DZQ 400 ECONOMY VACUUM PACKAGING MACHINE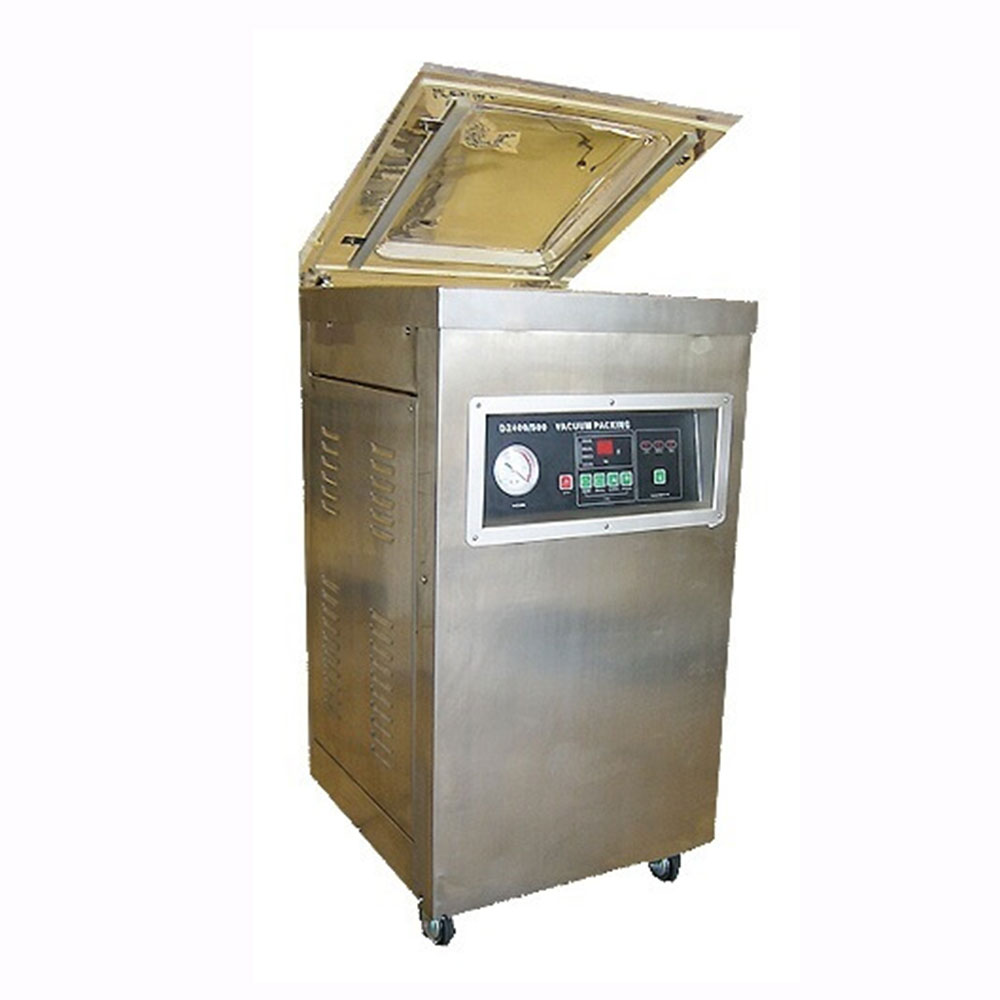 DZQ 400 ECONOMY VACUUM PACKAGING MACHINE
SPECIFICATIONS
| | SPECIFICATIONS |
| --- | --- |
| Vacuum Machine | 1220 V 60 Hz |
| Seal Bar | (Two Seal bars) 15.75" each |
| Distance between bars | 11" |
| Machine Size | 21" x 19" x 39" H |
| Machine Weight | 250lbs |
| Largest bag that can work on machine | 15" W x 12" L |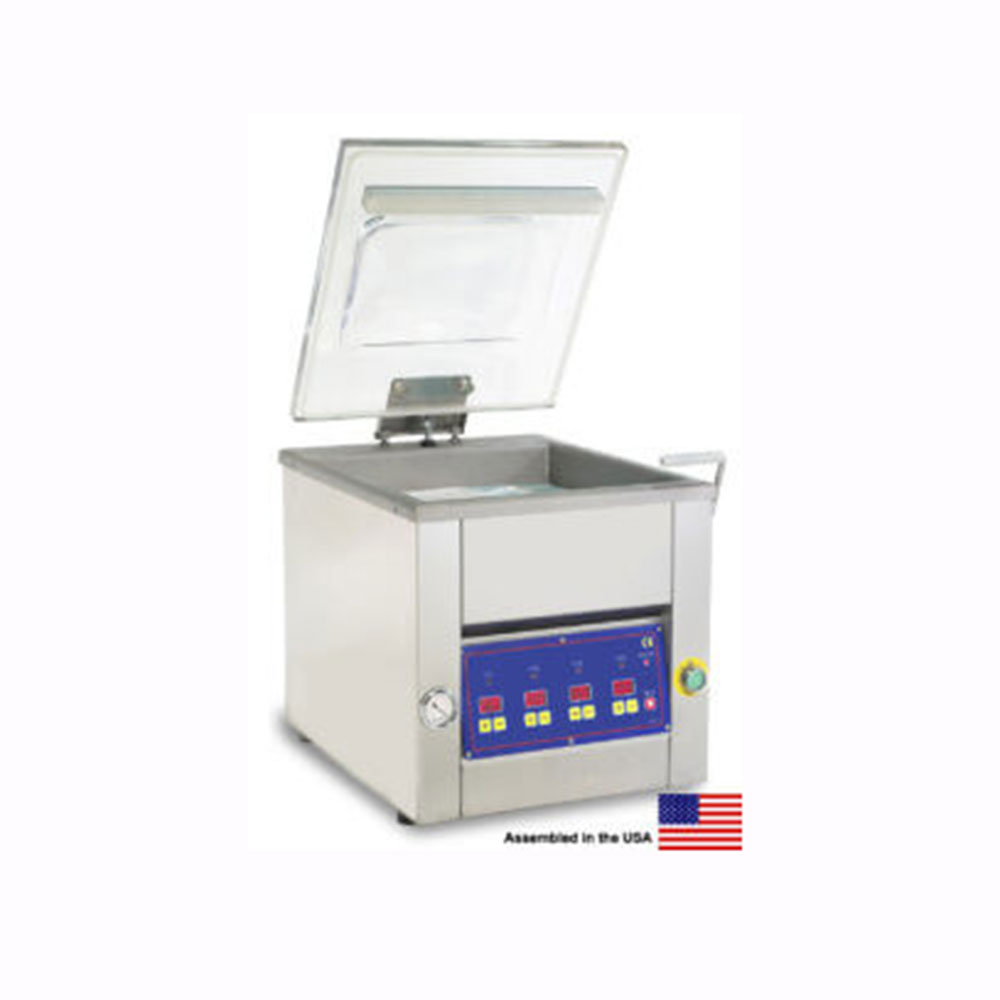 VACUUM MACHINES
PC 280 TABLE TOP
VACUUM MACHINES
SPECIFICATIONS
| | SPECIFICATIONS |
| --- | --- |
| Chamber Size | 14.1" x 15.1" 3.7" |
| Seal Bar | 1 x 11.8" each |
| Vacuum Capacity | 6m3/h |
| Power | 110V / 1ph / 60Hz / 12 amps |
| Machine Size | 15" x 18" 16" |
| Machine Weight | 115lbs |
VACUUM MACHINES
PC 420 TABLE TOP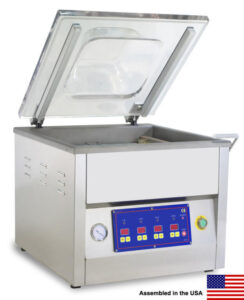 VACUUM MACHINES
SPECIFICATIONS
| | SPECIFICATIONS |
| --- | --- |
| Chamber Size | 19.8" x 19.2" x 3"+4" |
| Seal Bar | 1 X 17.7" |
| Vacuum Capacity | 21 m3/h |
| Power | 110V / 1 ph / 60 Hz / 16 amps |
| Machine Size | 20" x 21" x 21" |
| Machine Weight | 220lbs |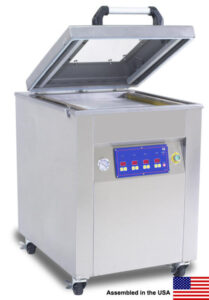 VACUUM MACHINES
SPECIFICATIONS
| | SPECIFICATIONS |
| --- | --- |
| Chamber Size | 23.6" x 23.6" x 3"+4" |
| Seal Bar | 12 X 21.3" |
| Vacuum Capacity | 21 m3/h |
| Power | 110V / 1 ph / 60 Hz / 16 amps |
| Machine Size | 24" x 30" x 36" |
| Machine Weight | 310lbs |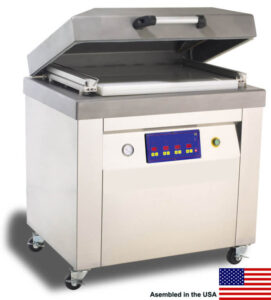 VACUUM MACHINES
SPECIFICATIONS
| | SPECIFICATIONS |
| --- | --- |
| Chamber Size | 35.5" x 26" x 7" |
| Seal Bar | 2 X 20.5" |
| Vacuum Capacity | 40 m3/h |
| Power | 230V / 3 ph / 60 Hz / 8 amps |
| Machine Size | 35" x 26" x 39" |
| Machine Weight | 500lbs |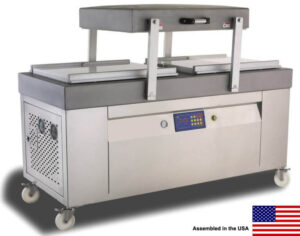 VACUUM MACHINES
PC 640 DOUBLE CHAMBER
VACUUM MACHINES
SPECIFICATIONS
| | SPECIFICATIONS |
| --- | --- |
| Chamber Size | 32 X 29 X 8" |
| Seal Bar | 4 X 25.2", 22" |
| Vacuum Capacity | 63 m3/h (Busch Pump 3hp equivalent) |
| Power | 230V / 3 ph / 60 Hz / 18 amps |
| Machine Size | 62 X 36 X 44" |
| Machine Weight | 908lbs |