PREMIUM FORKLIFTS
NEXEN FORKLIFTS
Nexen aims to be the first choice supplier for the global materials handling industry, delivering a high return on investment with quality innovative solutions and dependable products through our worldwide distribution network.
Using the very latest virtual design software and techniques, we are able to deliver class-leading lift trucks with the ambition to provide a fresh outlook alongside operator-friendly design features. To ensure minimal operation downtime and cost of ownership, Nexen selects only the highest specification components in our commitment to provide quality and reliability.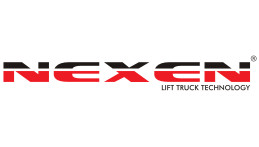 NEXEN FORKLIFTS
Specifications
Capacity ranges from 1.5 ton to 16 tons
Contact us for more information.